Fine Artists
Alicia Drakiotes Art
Alicia Drakiotes is a fine artist from Marlborough, NH. Many of her oil paintings capture stunning summer afternoons and magical moonlit evenings. She says "I paint because my spirit calls me" and with time, has gone on to share her enthusiasm for fine arts through teaching at various institutions including the New Hampshire Institute of Fine Arts. Explore her personal website to see more of her work. 
Tim Campbell Art
Tim Campbell resides in Keene, NH with his Jack Russell Terrier, Otis Campbell, named after the character on the Andy Griffith Show. He self-identifies as an "outsider" artist. His works are always thought provoking and humorous. Tim's work can be found in galleries throughout New England, Cape Cod, Atlanta, San Francisco, in the American Folk Art Gallery in New York City, and in private collections throughout the United States and Europe. See more of Tim's pieces on his Etsy page! 
Bird House Studios
Though she was born and raised in Houston, Texas, Emily Sodders knew early on that she was meant to escape suburbia and resettle in the peaceful countryside where she could draw inspiration from more rugged terrain, waterfalls, wildlife and the change of seasons. Emily's paintings reflect the vibrancy and intimacy of her exploration of rural New England, and her commercial and residential mural installations can be found around the Monadnock Region and beyond. Emily established Bird House Studio in Gilsum, NH. Explore her website and Instagram for more of her artwork!
Mary Iselin Fine Art
Mary Iselin is a fine artist from Brattleboro, VT, who is known for her incredible landscape and natural paintings. The majesty and depth of Mary's paintings are known to catch an eye, and can found in other galleries in the Southern Vermont area. See more of Mary's work on her website or Instagram.
John Traynor 
John Traynor is based out of Swanzey, NH, and his fine art paintings can be found in the marketplace! John is a skilled painter of every genre: landscape, still life, and portraiture. His unique blend of realism and atmospheric impressionism set his work apart. Many people can recognize a "Traynor painting" by its brush strokes and unique feeling. See his beautiful framed paintings today!
Kate Beetle
Kate Beetle is based out of Alstead, NH, and has been painting since she was very young. She has a degree in Environmental Science and has always found joy in naturalistic landscapes and being outdoors. She is also a juried member of the League of NH Craftsmen and the Sharon Arts Center. Kate works with paint, panels, and paper, and is skilled in oil paint and calligraphy. Her work can also be found in the Vermont Artisan Gallery in Brattleboro and the Gallery at the Vault in Springfield, VT. 
Real Small Art
Kate O'Dell paints in watercolor with a focus on animals. Some of her favorite original paintings are reproduced as unique small prints mounted on cradled birch wood and ready to hang - no glass or frame needed.  Note cards are also available. She also specializes in Pet Portraits. Her studio and home are in Litchfield NH, where of course she is surrounded by animals. See her website for more of her work!
Gary Custer Fine Art
Gary Custer is a fine artist whose work can be found in the Hannah Grimes Marketplace Art Gallery. As a New England native, much of Gary's work depicts monuments and natural imagery of the area. He was born and raised in Pittsburgh, PA and received his BFA from Edinboro University of Pennsylvania. He has explored new techniques in recent years, painting familiar people and places in acrylics, colored pencil, watercolor, and graphite. Currently living in Keene, NH, Gary sells several of his designs on greeting cards at the marketplace. Visit his fine art website for more.
Nicole Belval Art
Nicole Belval is a self-taught fine artist with a primary focus on animal portraiture and nature scenes. Nicole has always had a great love of animals and strives to show this love in her work. She hopes her animals bring a smile to your face and that you can see the unique personalities of her subjects. She started her artistic career in 2015 with acrylic painting, and in 2016, she added watercolor, colored pencil, pastel, and mixed media to her artwork. Her work has been sold throughout the United States and locally, and has been donating to local charities along the way. She is a member of the Monadnock Area Artists Association and part of the Art in the Park committee. Visit her website, Facebook, or Instagram to see more of her work!
Elaine Farmer - White Birch Art
Elaine Farmer is a fine artist from Massachusetts who began her artistic journey at the age of 12 with her first set of oil paints. She has studied art through classes and workshops with many well-known artists in the U.S. and internationally ever since.
A national award-winning artist she has earned numerous awards throughout the U.S and is represented in galleries throughout the New England area. Her work can be found in private and corporate collections both in the U.S. and abroad and at the marketplace! She currently has a studio in Amherst, NH.
Bob Yantiss Art
Bob Yantiss is a fine artist from Swanzey, NH, whose laser-cut wood pieces are distinct from our other, more colorful/painted pieces. Bob is skilled in creating wooden etchings and wooden mandalas. He is interested in engraving and woodworking, painting with acrylics, and photography.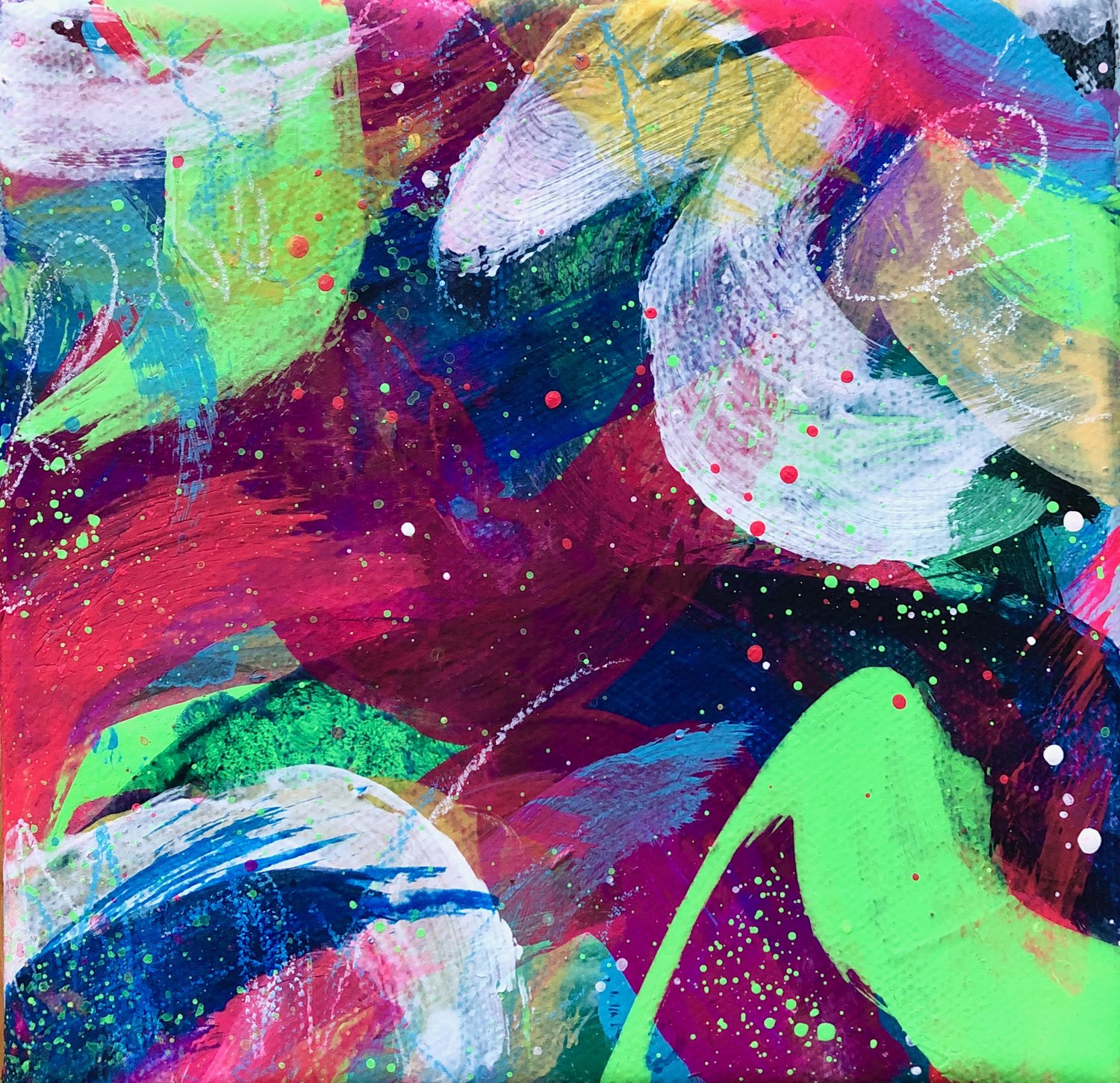 Kate Marion Lapierre Art
Kate Lapierre creates colorful abstract paintings and has sold her work locally and internationally through online galleries and local businesses. Her paintings can be completely abstract or expressionist landscapes and florals. Important to her work is how the basic elements of color and movement intermix to create an abstract image. She is continually inspired by both contemporary and past expressionistic artists. Kate paints using acrylic or watercolor/ink as well as some craypas or pencil on canvas, wood, or paper. She is drawn to color, mood, and mark-making. Her goal is to have each viewer interact with the painting and interpret it on a personal level. Formerly, Kate had been an illustrator, art educator, and art therapist and continues to draw on those experiences while enjoying the painting process. As is a longtime Western Massachusetts resident, she continues to enjoy the colors and beauty of this area. More information on her artwork can be found on her website www.katemarionlapierre.com, www.saatchiart.com/kml, www.fineartamerica.com, and on Facebook at Kate Marion Lapierre Paintings.
Tim Gasper Art
Tim Gasper is not only a shopkeeper at the marketplace, he is also a fine artist! His folk art can be found as original paintings, cards and stationery, and giclee prints! His work focuses on local architecture, landscapes, flora and fauna, and naturalistic folk art. Tim is based out of Keene, NH! 
Carol Corliss Fine Art
Carol Corliss has been a member of the Marketplace since 2012 showcasing her beautiful fine art pieces, cards, and prints. Carol's love of nature combined with the beauty of our natural surroundings is a constant inspiration for her pastel paintings. Her work has been in many local & national pastel shows, solo shows, and galleries all along the east coast. She lives in West Chesterfield, NH and is a member of multiple acclaimed art communities, including the Pastel Society of New Hampshire, the Vermont Pastel, and a co-founder of the River Valley Artisan Tour. Visit her website or Instagram to see more of her artwork.
Gail Shelley Art
Gail Shelley's name may sound familiar, not only if you're a fan of her work, but also because we proudly showcase the paintings of our very own previous store manager! Gail's work can also be found during art walk and on display in other stores around town including Prime Roast. See her website for more of her work, or her Instagram!
Jeannie Thieme
Jeannie Maguire Thieme paints in her Pipe Dream Studio on Pipe Dream Farm in
Swanzey, N.H. She is a member of numerous Art Associations and a Signature
member of the New England Watercolor Society, Academic Artists Association, and
Vermont Watercolor Society. Thieme became a juried member of the National Art
League and the Salmagundi Club in New York City. Explore her website to see her work and learn more about her!
Kathleen Kennedy
Kathleen Kennedy is one of our talented fine artists based out of Swanzey, NH. Kathleen creates brag bags, cards, and framed original art for HGM. Among Kathleen's popular designs are detailed, colorful zodiac prints, as well as lively and bright flower and bug designs.
Dug Nap Art
Dug Nap is a self-taught American folk artist based out of Vermont. Dug's prints are sold in 28 shops and galleries in the U.S. as well as private collections. He is at home with many mediums including oil, acrylic, watercolor, gouache and digital paintings. He is also a storyteller and his paintings sometimes include text. Dug's paintings are usually offbeat and thoughtful, colorful - occasionally dark- reflections of everyday life. He also brings his hand-painted wooden frames to the marketplace, which are the perfect size for framing his quirky prints. See more of his prints on his website and Instagram.
Mariah Palmer is the assistant marketplace manager at HGM as well as the artist behind the Poppy's Garden / Amber Moments embroideries available at HGM. See her Etsy and Instagram for more of her work, which is all hand-made & one-of-a-kind. She accepts customizations and commissions. Her embroideries focus on plants, literature, pop culture, movies, and more! 
Sylvia Ryder
Sylvia Ryder is an oil painter from West Chesterfield, NH. Her beautiful floral paintings can be found in our gallery at HGM, so can her hand-dyed t-shirts! Learn more about Sylvia on her Instagram.
Paul Ethier
Paul Ethier is a fine artist of the Marketplace who is based out of Keene. His elegant works use shadow and light to create timeless, emotionally charged pieces that are in our gallery. 
Jim Keefe (Green Acres Studio)
Jim Keefe of Green Acres Studio is a fine artist recently accepted at the marketplace! His work can be found in our new gallery space alongside other local artists. His work focuses largely on shadows and naturalistic imagery.
Eileen Belanger (Cider Mill Gallery)
Eileen Belanger of the Cider Mill Gallery is a fine artist based out of New Hampshire! She is a member of the NH Art Association, the Center for the Arts, and the NH Plein Air Association. She also exhibits her original paintings at the annual League of NH Craftsmen Fair. Eileen has gained recognition for her original, detailed paintings of New England scenes, her murals through the East Coast, and her animal portraits.